Need help with lockouts in Lakewood?
When you're locked out of where you need to be, it's frustrating. And in certain situations, this frustration is compounded. If it's raining and you're stuck outside without rain gear, it's not someplace you want to be for long. It's similar when you come home after a long work week and find yourself locked out of your home. In situations like these, what would you do? Don't worry; Guaridian Security Group, Inc is here for you. We're prepared for all kinds of lockouts in Lakewood and will get you into where you need to be in no time!
Can't I just do the credit card trick? 
While it's possible in some situations to get in the door with a credit card, this rarely works. And even if it does, it can bring about its own host of problems. Neighbors might notice someone "breaking in" to a house and call the authorities. And even though it's your house, you'll still have to explain yourself to the police! It's safer to leave it to professionals like us. This way, we'll keep your lock, your credit card, and your reputation intact.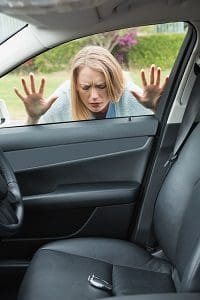 ---
What kind of locksmith services do you specialize in?
As a versatile locksmith company, we can handle just about any lockout emergency. And when it comes to getting into vehicles, we're the best around:
The locking mechanism of some cars is hard to reach. Fortunately, our locksmiths have the right tools for the job.
Some luxury vehicles have chipped keys that activate the electronic lock. We'll bring the right key to get in.
Did your car key get broken? We have an enormous selection of replacement vehicle keys and fobs available!
Don't wait for a slow-responding locksmith! With a 20-minute response time, our team is just around the corner!
We're local and reliable
Along with our speedy response, our mobile locksmiths come prepared. Each one of our vans carries a variety of tools so we're ready just in case something comes up we weren't expecting. Our goal is to see you get back into your car or home safely with as little inconvenience as possible. So when you're dealing with lockouts in Lakewood, don't delay! Call your local professional locksmiths right away.