Do you need to change the locks on your home?
Is the lock on your home rusty, old, or outdated? Would you like to have a deadbolt added for increased security? Are you prone to locking yourself out and want a digital backup? Then call up Guardian Security Group, Inc for a lock change in Tacoma. While doing a basic lock change be a DIY job, if you want to upgrade or change the type of lock on your home, you'll need the help of a professional locksmith, and we'll make sure it's done right.
My lock is broken. Can you help?
We sure can! In many cases, we can fix a lock that has been broken.. However, sometimes repair isn't possible or would cost more than replacing your lock entirely. In those cases, we'll explain the situation to you up front so you understand our recommendations. 
---
---
What kind of locks do you carry?
As a full-service locksmith, we have access to many different kinds of locks. If you'd like us to help put in a new lock for you, some of our common options include:
Deadbolts

Deadbolts give an extra layer of security. We have deadbolt locks, combination deadbolts, as well as keyless and electronic

Panic bars

Normally used in industrial settings, panic bars are spring-loaded "push-to-open"doors

Magnetic locks

Stronger than conventional locks, magnetic locks are good for areas where high security is required

Padlocks

If you need a durable padlock for a storage shed or other important area, we have nearly unbreakable options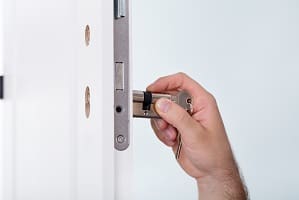 ---
We're a commercial locksmith too!
If you think it's time to change the locks in your office, we can take care of that too. Looking to add in an electronic keypad or access control system for added security? We can install it for you. Some of our options even include tracking systems such as fingerprint scanners, so you always know who's coming in and out of your building.
---
Choose us for lock replacement
Whether you're looking for more security or simply want to get into your home easier, we're here to help. With a quick response time and friendly service, our versatile locksmiths will make sure you aren't locked out for long. So give us a call or contact us today for a reliable local locksmith you can trust!